About AASE Motors and Jeff Erickson
Established in 1978 by Randall Aase and partnered with Jeff Erickson in 1980, Aase Motors is widely considered a leading performance tuning and mechanical facility for performance cars and a premier Motorsport preparation facility. From early to late model cars, our 33 years of experience allows us to handle almost any automotive need.
Background: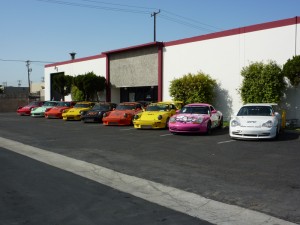 At the age of seventeen, Jeff's Motorsport education began with the Porsche Owners Club, racing his 1967 912. Under the watchful eye of Joe Schneider of Porschop, Jeff assisted in his first engine overhaul. A few years later Jeff was hired by the Factory in Marina del Rey working on the shops race car driven by Marc Rothman, Tom Marx and Michael Hammond. His next stop was Porschop now owned by Bob and Connie Fern , as Joe had moved to Santa Barbara to open Schneider Autohaus, doing engine and transmission rebuilding In 1980 Jeff began with Randall Aase Motors, helping Randy meet the demands of the GTO category supplying engines for many of the teams as well as his brother Dennis. Randy moved on to Motorsports Machine and then to Aasco Performance partnering with Dennis running a team of GT3 Cup Cars, doing dyno development, making aluminum flywheels and machine work. The Club racing and repair shop was left to Jeff who has cultivated the largest and most successful group of racers in the POC while maintaining a shop for all Porsche owners. Engine and transmission expert Allan Faragallah now handles all the unit work from 356 to the newest cars, street or racing. Restoration, upgrades or competition are all handled with the highest degree of quality and precision giving our products lasting reliability.